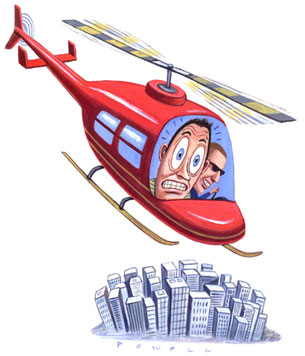 One of the regular features on my blog is "Monday's Money Funny" which are humorous (at least to me) articles/jokes/just about anything that I've discovered over the weekend when I catch up on all my on line reading that spark a need for knowledge. For example last week's was on rising gas prices and highlighted Gorda's gas prices which reach over $5/gallon.
This week I decided to change it up from the gas price topic (although I ran across many Money Funnies about gas). Instead I found a very interesting article in the Atlanta Journal Constitution about how the Hilton Garden Inn near Centennial Park has installed a Helipad for its "well-heeled" clients.
Below are some highlights of the article - you can check it out in full at
AJC online
:
The new Hilton Garden Inn across from Centennial Olympic Park is upping the ante in luxury accommodations.
The hotel is the first in the city to offer a helipad to well-heeled customers.
"It was the brainchild of our builder, David Marvin," said Chuck Powell, area general manager for Hilton. "He saw a need for a helipad in downtown Atlanta, especially if you think of the city's traffic."
The pad, on the 15th floor, is the latest amenity offered by Atlanta hotels to distinguish themselves in the competitive lodging sector. From butlers to spas to restaurants created by celebrity chefs, the city's hotels are sprinting to top each other to attract big spenders.
Mark Newton, program director of the hotel, restaurant, tourism management program at Gwinnett Tech, said the helipad will give the Hilton Garden Inn a marketing advantage.
"Every brand is trying to find a way to get the consumer to notice their product," he said. "You want to be remembered. It's all about positioning."
Seriously a helipad at the Hilton Garden Inn? Don't get me wrong I think the Hilton Garden Inn is a nice place, but its a 3 star hotel and most people being flown in private helicopters don't stay at 3 star hotels. There's only one 5 star hotel in Atlanta (soon to be a second that's currently being built by my company), so I can understand those "well heeled" clients needing to down grade their standards a little and stay at at 4 star hotel - but you tell me who owns/rents a helicopter and then stays at the Hilton Garden Inn? I guess even millionaires are having to cut back in today's current economy.
Usually my Monday's Money Funny promote some type of research - but I'm sad to say that's not the case today, unless you're like to know how to fly a helicopter. I decided to include this article anyway since I found it rather humorous and timely as I'm going to be living out of a hotel for the next week. Too bad I can't take the Helicopter to the Hotel it would sure save on my travel time.
Stay tuned for next week's Monday's Money Funny. If you run across any Money Funnies please email them to me at future.millionaire.blog@gmail.com and if I use them I will give you credit and link to your blog.