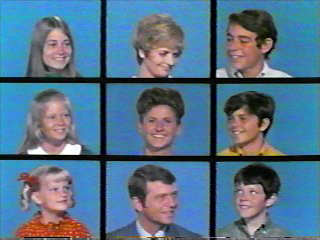 One of the regular features on my blog is "Monday's Money Funny" which are humorous (at least to me) articles/jokes/just about anything that I've discovered over the weekend when I catch up on all my on line reading that spark a need for knowledge. For example the previous Monday Money Funny was a about the
City of Atlanta spending $300k on toilets when they are in a $141 Million Deficit
.
This week I thought I'd share an article from CNNMoney about what Pop Culture Icons would cost in today's dollars.
Below is a highlight from one of the icons they reviewed, click
here
to view the entire article and all 10 icons.
The Brady Bunch - 1969 to 1974
Est. home value in the '70s: $87,700
2008 est. value: $509,700
Actual 2008 value of "real"
Brady house:
$1.5 million
Raising six kids has never been easy, and architects don't make as much money as television's Mike Brady would lead us to believe. Wow, there's a surprise.
The Bradys lived in a large, four-bedroom house with a live-in housekeeper in suburban Los Angeles. In the earliest figures available from the National Association of Realtors, the average cost of a single-family home in the area was $87,700 in 1979.
Today, the average house in the same area goes for $509,700, and a house that can fit nine (not counting Oliver) would probably cost a lot more. Real estate Web site Zillow.com, currently values the "real" Brady House at about $1.5 million.
An architect's annual pay averages $64,150, according to the latest estimates from the BLS. That would mean Mike made an inflation-adjusted $15,687 a year during the show's final season in 1974 when Greg was getting ready to go college.
As with all Money Funnies this promoted me to research. Unfortunately there's not a lot you can do to combat inflation, however you can learn more about what is inflation so I thought I'd share an
about.com
entry explaining inflation.
Stay tuned for next week's Monday's Money Funny. If you run across any Money Funnies please email them to me at future.millionaire.blog@gmail.com and if I use them I will give you credit and link to your blog.