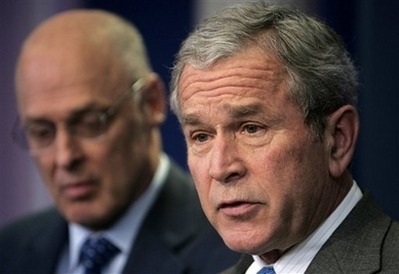 One of the regular features on my blog is "Monday's Money Funny" which are humorous (at least to me) articles/jokes/just about anything that I've discovered over the weekend when I catch up on all my on line reading that spark a need for knowledge. For example the previous Monday Money Funny was about the Asian Market Down turn.
Excitingly Bush announced this past week that the
Tax Rebates would start being distributed a week earlier than expected
so I thought it approapirate for this week's Monday Money Funny be about a "what if" scenario about Americans spending every penny of their tax rebate.
Here's the highlights from the article, check out MSN Money for the full
article
:
But what if every penny of that $100 billion were spent this summer, jolting the economy exactly as lawmakers intend?
Wide-screen televisions would fly off the shelves. Wal-Mart, Best Buy and Walt Disney would think it was Christmas all over again. Tens of thousands of teenagers would get summer jobs. And for a few months, U.S. economic growth would surge to twice the rate expected. And then fall, possibly on its face.
As with all Monday's Money Funnies this article promoted me to research. Personally, I'm going to be bad and "help" the economy and use my tax rebate to fund my new LCD TV but for those of you who are going to be good I thought I'd share below some articles I found about how to put your tax rebate to good use.
MSN Money's
The Best Ways to Spend a Tax Rebate
About.com's
Smart Ways to Spend Your Tax Rebate
Stay tuned for next week's Monday's Money Funny. If you run across any Money Funnies please email them to me at future.millionaire.blog@gmail.com and if I use them I will give you credit and link to your blog.